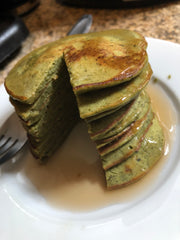 1/2 cup gluten free flour
1/4 cup unflavored pea protein
2 tbsp Baahtcha matcha powder
6 packets stevia
1 tsp baking powder
1/4 cup coconut milk
1/2 cup egg whites
1 tsp vanilla

Mix all ingredients together while griddle heats. Pour pancakes to desired size and cook thoroughly on each side.
Top with syrup or topping of choice!