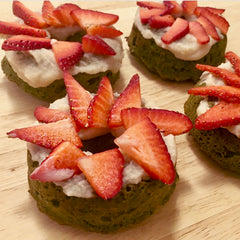 1 cup almond flour
1/2 cup tapioca flour
3 tbsp Baahtcha
1/2 cup erythitol sweetener
1/4 tsp baking soda
1 tsp baking powder
1/2 cup coconut milk
1/4 cup coconut oil (melted)
1/4 cup honey
2 cups spinach
2 eggs
1 tsp vanilla
Frosting:
1/2 cup Coconut milk powder
1 tbsp coconut milk
1 tbsp coconut oil
2 tbsp honey
5 thinly sliced strawberries
Preheat oven to 350 degrees and spray donut pan with nonstick spray.
In a large bowl combine all dry ingredients. In a blender or food processor, add spinach, eggs, honey, coconut milk, coconut oil and vanilla. Once blended, slowly mix wet mixture into the dry mixture.
Evenly fill each donut pan and bake for 10-15 min.
Let completely cool.
Mix all ingredients for the frosting until smooth and top cooled donuts. Add sliced strawberries once finished.