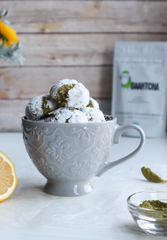 MAKES
24-26 cookies
INGREDIENTS
2 1/4 cups (200g) almond flour, sifted

1 cup (200g) granulated sugar

1 tablespoon (5g) matcha powder

⅛ tsp salt

2 large egg whites 

1/4 teaspoon lemon juice

1/2 teaspoon almond extract

confectioners' sugar, as needed (leave out for Gluten Free version)
 INSTRUCTIONS by @seidysbakery
Preheat the oven to 300°F (148.89°C) and stack two baking sheets (preferably light in color) and line the top cookie sheet with parchment paper. Stacking will prevent the cookies from browning too much in the oven.

In a large bowl sift the almond flour, sugar, Baahtcha matcha powder and salt and whisk to combine. Set aside.

In a clean bowl of a stand mixer set with the whisk attachment, beat the egg whites with lemon juice until soft peaks form.

Add almond extract and beaten egg whites to the almond flour mixture and mix until well combined and until all the egg white has been incorporated, you can use a spatula or your hands. It will be a very sticky dough.

Place confectioners' sugar in a deep bowl and dust your hands with it. With the help of a small cookie scoop, scoop and roll dough into a ball, then roll into the powdered sugar, for a gluten free version skip the confectioners' sugar unless using a GF confectioners' sugar. Arrange on parchment paper about 1 inch apart from each other as these will expand a little bit.

Bake 30-35 minutes until the tops are cracked if using double baking sheets. If you are not using double baking sheets, bake for 20min and keep an eye on the cookies so that they don't brown too much. Longer baking time will give you a crunchier cookie.

Remove from the oven and let cool for 10 minutes on the baking sheet. Carefully remove cookies onto a wire rack to cool completely. Cookies will be very soft when coming out of the oven and may break if removing them before they have cooled.

Store cookies on an airtight container for up to 5 days.
These amazing cookies were made by Seidy's Bakery (@seidysbakery)