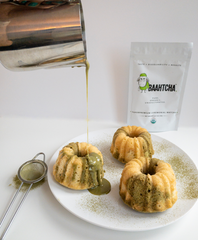 MAKES
6-7 mini bundt cakes
INGREDIENTS
For the cake:
1 stick (8 tablespoons) unsalted butter, at room temperature, plus more for the pan

1 ½  cups all-purpose flour, plus more for flouring the pan

¼ teaspoon salt

⅛  teaspoon baking soda

1 ¼  cups granulated sugar

3 large eggs

½ tablespoon pure vanilla extract

½  cup (4 ounces) sour cream or greek yogurt

1 tablespoon Baahtcha Matcha powder
For the glaze:
¾  cups powdered sugar

1 tablespoon milk

1-2 teaspoons Baahtcha Matcha powder

1 teaspoon vanilla extract

Pinch of salt
 INSTRUCTIONS by @seidysbakery:
Preheat the oven to 325°F (117°C) and generously grease a mini bundt cake pan and dust lightly with flour getting into all the nooks and crannies. Tap out excess flour.

In a small bowl sift the flour, salt, and baking soda. Set aside.

In the bowl of a stand mixer set with the paddle attachment, cream the butter and sugar together on medium-high speed until well combined, about 2 minutes. Scrape down the sides of the bowl as needed. Add eggs one at a time, beating well after each addition and stopping to scrape the sides of the bowl after each addition. Add vanilla and mix until combined.

With the mixer on low, add half of the flour mixture. Add the sour cream and continue to mix on low until incorporated. Add the remaining flour and beat just until combined. Do not overmix or you will end up with a tough cake. Batter should be light and fluffy.

Pour half the batter into a medium bowl and set aside. Add Baahtcha matcha powder to the batter in the mixer and beat until combined.

Spoon batter into prepared pans, alternating between the matcha batter and the vanilla batter. Fill each bundt cake cavity 2/3 full. Swirl with a skewer, chopstick or knife.

Bake for 20-25 minutes or  until the top is golden-brown and the cakes spring back when lightly poked with your finger. Remove from the oven and let cool on a wire rack for 5 minutes. Carefully invert the pan on the wire rack giving the pan a little shake to release the cakes. Allow bundt cakes to cool completely on the wire rack before icing.
For the glaze:

Add all glaze ingredients in a small bowl and whisk until well combined. You can add more or less Baahtcha Matcha powder depending on your taste. Add more milk or icing sugar to adjust consistency if desired. Drizzle bundt cakes and serve!
Bundt cakes can be covered and stored at room temperature for 1-2 days or in the refrigerator for up to 5 days.
These Matcha Marbled Bundt Cakes with Matcha Icing were made by Seidy's Bakery (@seidysbakery)