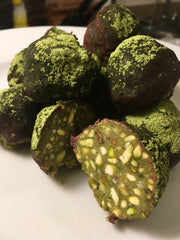 1 ripe avocado 
3 tsp Baahtcha 
2 tbsp coconut oil
1/4 cup maple syrup 
1 tsp vanilla 
2 cups shelled pistachios 
1 cup dark chocolate chips
-
Using a food processor, combine avocado, Baahtcha, 1 tbsp coconut oil, maple syrup and vanilla until smoothly combined. Finely chop/process pistachios and add to mixture. Refrigerate for about an hour. 
While the avocado matcha mixture is in the refrigerator, take the other tablespoon of coconut oil and slowly melt into chocolate chips. 
Take avocado mixture out of refrigerator and form into balls about the size of a quarter. Dip completely in chocolate and dust with Baahtcha for extra flavor! Let chocolate coating harden in refrigerator before eating. 
BEST IF KEPT COLD!